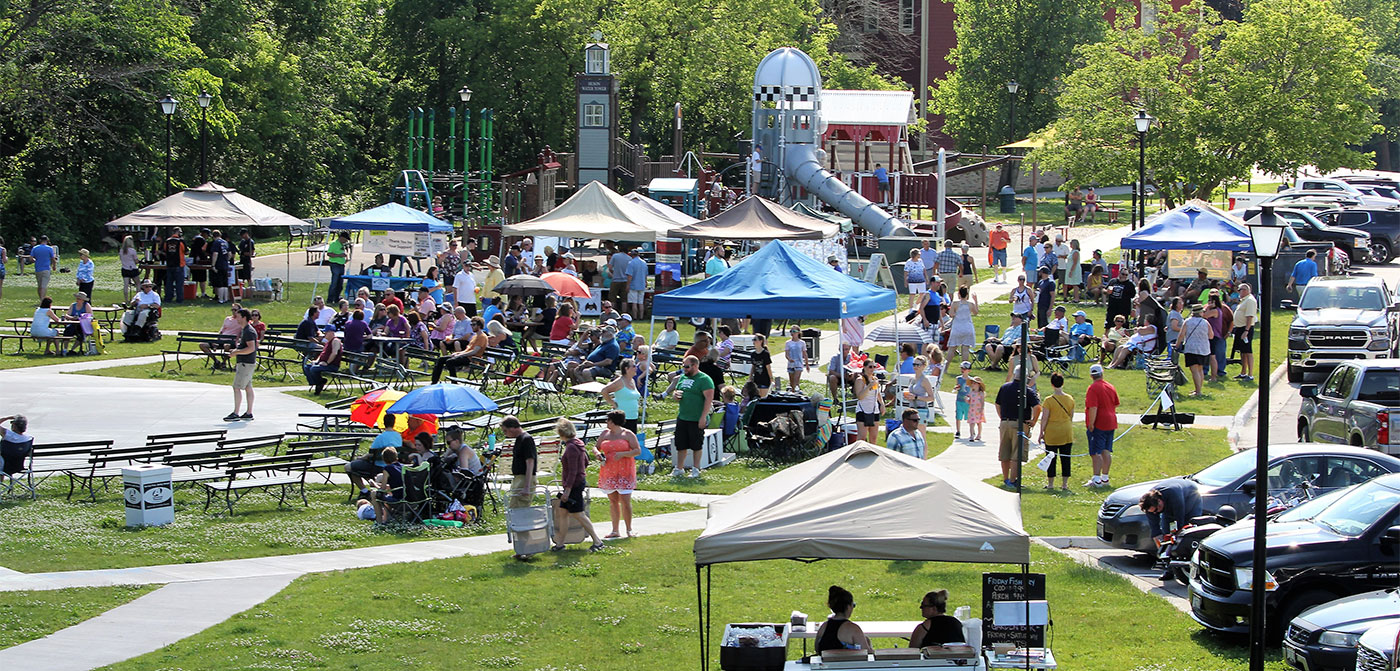 Check out our newest
community event!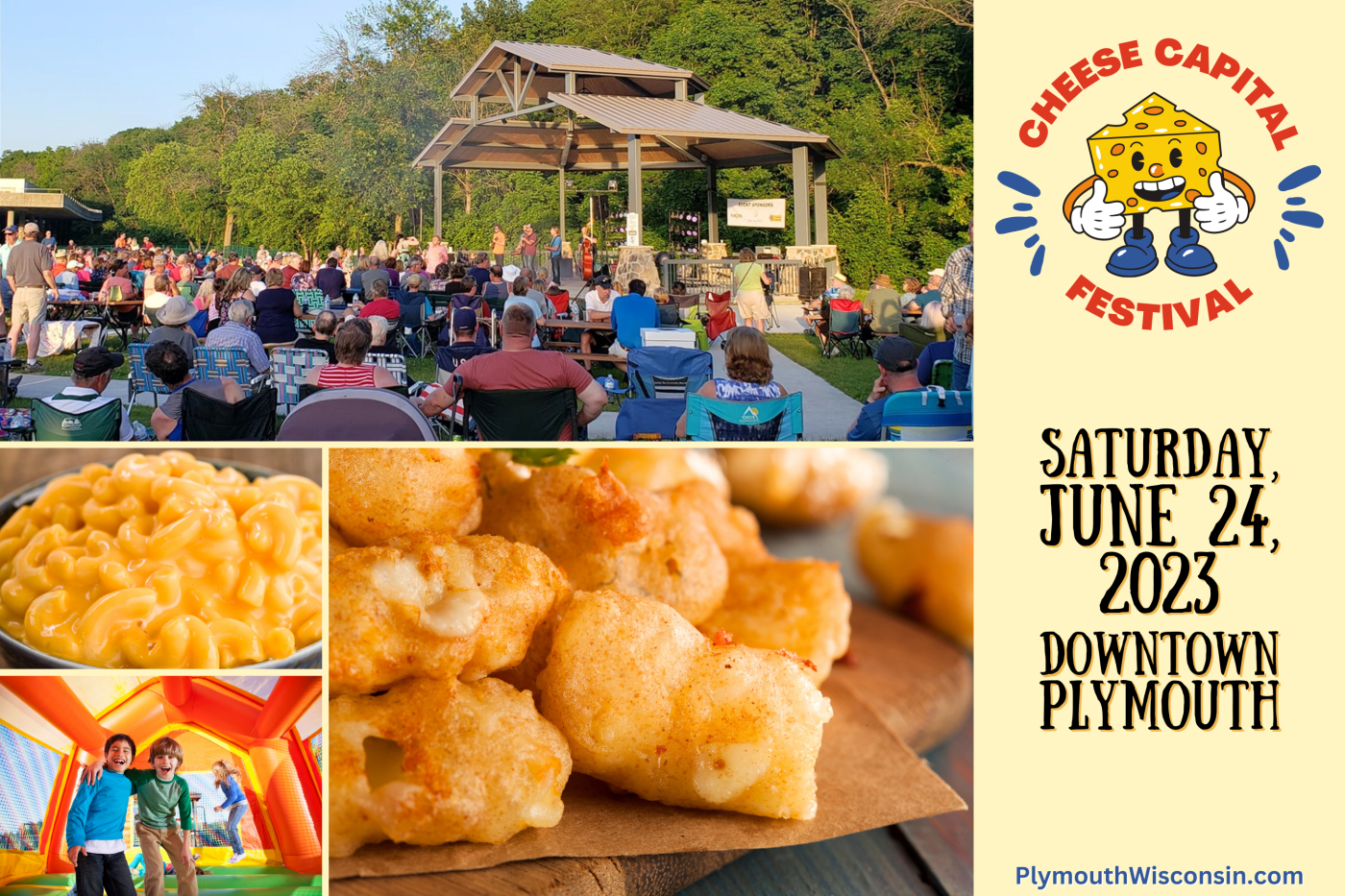 "Calling all cheese lovers! Don't miss the FIRST EVER Cheese Capital Festival in Plymouth, WI, the Cheese Capital of the World! Join us on June 23rd and 24th for an unforgettable weekend filled with cheesy delights and fun-filled activities.

Enjoy a cheese-themed parade, live music, a cheese eating contest, and a foam cheese wedge race in the Mullet River, with a chance to win a grand prize of $1,000. Indulge in a mouthwatering array of cheese-centric food from our vendors. Bring the kids for FREE family fun! A large bounce house, face painting, petting zoo by Diamond Vu Agricultural Education Center, along with free milk and dairy promotional materials, and a farm themed playground await! Satisfy your inner curd nerd with food science and cheese history presentations by Sargento, Sartori, the Plymouth Historical Society and more.

Don't miss this opportunity to immerse yourself in the Cheese Capital of the World and celebrate the dairy delicacy that makes Plymouth famous. Join us at the Cheese Capital Festival for a day of foodie fun."

Directions & Parking
Parking will be available on Plymouth city streets along Mill Street and north of Mill Street. Looking for directions to the event? Enter "39 Stafford Street, Plymouth, WI 53073" into your map device.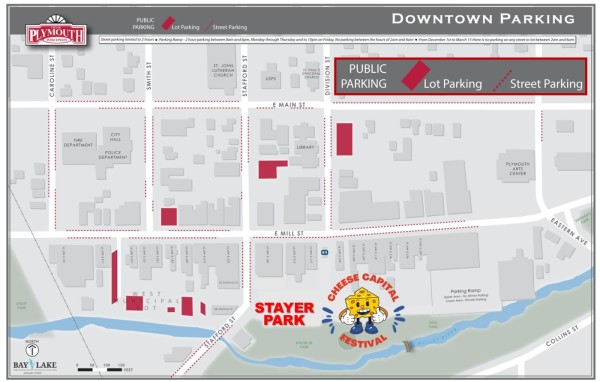 Join the
Parade
The Cheesiest Parade you have ever been to starts at 10:00 am! Do you want to participate in the parade and have a float? Parade Entry is FREE...but you MUST have a cheese themed float! Fill out the parade registration form today and join us in what will be a great cheesy day!
Local Business'
Specials & Events
Local businesses are offering cheesy specials and events at their locations! Keep the cheese celebration going at these area businesses:
Deo's Pizzeria & Pub. During the Cheese Capital Festival on Saturday, June 24th, Deo's will be serving pizza by the slice and mozzarella sticks from their back patio area (visible from the festival).
Vintage Elkhart Lake. Stop in and mention the Cheese Capital Festival and we will give you 10% off your cheese purchase June 18-25, 2023! We also can suggest the perfect wine to pair with it from our selection of over 300 different wines. Cheers!
Plymouth Historical Society Museum. Stop at the museum June 22-24, 2023 to check out the historic Plymouth cheese industry display! Free admission.
St. Vincent de Paul. It ain't easy bein' CHEESY @Vinnies! Help us celebrate Vinnies's first ever CHEESE FEST! It's GOUDA be GRATE any way you SLICE it! Stop by and snag a bag of CHEESE. Find a mouse munchin' your CHEESE, win a GRATE prize! It doesn't get any CHEDDAR than this @Vinnies! June 24th.

Christel's Pet Supplies & More. Stop in June 23rd or 24th for a $1.00 off of pet CHEESE items: Fromm Chompy Cheese Popetts treats, Fromm Smokin' CheesePlosion treats, Dog O's Cheesy Chompers, Bocce's Cheese treats, Frankly Cheddar Cheese Beefy Puffs, Meowijuana Get Cheezy Catnip Toy.

Plymouth Arts Center. 30th Anniversary Art Contest. From 10am-2pm on June 24th, stop at the Plymouth Arts Center and create a masterpiece using the big 30 number by applying any medium. All art supplies will be provided. Two winners will be awarded in each category. Age categories: 3-6, 7-11, 12-17, 18+.

Allechant Boutique. Let Allechant Boutique help you enjoy the Festival!

No purchase necessary drawing for a $200 Gift Basket with Cheese and Boutique Goodies. 20 percent off everything in the shop and $10 Sale racks!

More to come...check back as new additions will be added as we receive them!
Cheese Capital Festival Store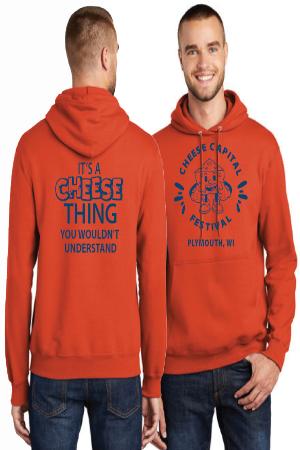 The online Cheese Capital Festival store is open!

Order your merch today to wear to the festival on Saturday, June 24! You can pick items up at Midstar Printing and Marketing Services, LLC or pay for shipping.

If you want to include shipping with your order, please select the "$10 Shipping" item to your cart by clicking on the "Shipping" navigation tab on the left-hand side. If you would like to pick your order up, select no shipping option and be prepared to collect your order at Midstar Printing and Marketing Services, LLC located at 1209 Pilgrim Rd, Plymouth, WI 53073.

If you wish to have item(s) in hand by the event on Saturday, June 24, 2023, your order will need to be submitted by June 9, 2023. The store will remain open throughout the event and until the end of the month for further orders.

https://www.companycasuals.com/CheeseFestival/start.jsp

Thank you to our
Event Sponsors
Thank you to our
Supporting Sponsors
The Big Cheese, Meinhardt Orthodontics, Nesemann's Diamond Center, Next Step Insurance, Plymouth Advancement Association, Road America, Shell Plastics, and Van Horn Automotive Group